Ad blocker interference detected!
Wikia is a free-to-use site that makes money from advertising. We have a modified experience for viewers using ad blockers

Wikia is not accessible if you've made further modifications. Remove the custom ad blocker rule(s) and the page will load as expected.
About Touhou Project
The Touhou Project (東方Project) is a series of 2D (with 3D background) vertically-scrolling danmaku shooting games made by Team Shanghai Alice, with three fighting game spinoffs co-produced with Tasogare Frontier. They are similar to regular shooting games, but focus more on weaving through complex patterns containing anywhere from dozens to hundreds of bullets. Every game in the Touhou series is set in the fantasy land of Gensokyo, and the series is known for its huge cast of characters, well-developed storylines, and related materials such as music CDs, fan-made comics and animated videos made to the music.
About Touhou Project Wiki
To learn what this wiki is about, read our mission statement, learn about posting your fan created content on the page, and find out how to become a featured user, check out our about page.
Contents
Highly Responsive to Prayers

Story of Eastern Wonderland

Phantasmagoria of Dim. Dream
| | | |
| --- | --- | --- |
| The Embodiment of Scarlet Devil | Immaterial and Missing Power | Phantasmagoria of Flower View |
| | | | |
| --- | --- | --- | --- |
| | | Undefined Fantastic Object | |
‹
›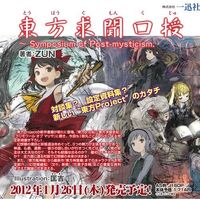 Symposium of Post-mysticism (東方求聞口授, pronounced Touhou Gumon Kuju) is an official Touhou Fanbook that was released on 27 April 2012. The book introduces every character starting from Mountain of Faith to Ten Desires. Other main information is that the three religions, Shinto, Buddhism and Taoism, will be covered.
The announcement that ZUN would be releasing a new print work sometime in Winter 2011/2012 was first made by Okonogi in Nikenme Radio's sixteenth episode. ZUN personally did not say anything about it during the interview.
The first available news regarding Symposium of Post-mysticism was from Touhou Project Doujin Tsuhan Jouhou website. From the announced news, the book would be...
EOSD tips?
16:20, April 10, 2016
Kidsview
PoFV not playing WAV BGM
23:15, November 8, 2015
Fujiwara No Mokou
Why haven't you deleted this wikia
11:44, October 15, 2015
Kyoko Moderfoca
Update the wiki's main page with the latest touhou games RN
00:25, October 11, 2015
Gadjiltron
My ULiL will not open, no matter what I try.
08:27, June 22, 2015
Nicogami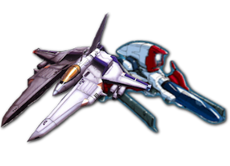 Shoot'Em Up Games
Go to these sites for info or for help with your own wiki!
1940 • Darius • Gradius • R-Type • Raiden • Shoot'em Ups • Sonic Wings • Space Invaders • Star Fox • Thunder Force • Touhou Project • Tyrian
Want your community included? See how!