Ad blocker interference detected!
Wikia is a free-to-use site that makes money from advertising. We have a modified experience for viewers using ad blockers

Wikia is not accessible if you've made further modifications. Remove the custom ad blocker rule(s) and the page will load as expected.
---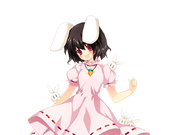 Avatars
- Default -
Default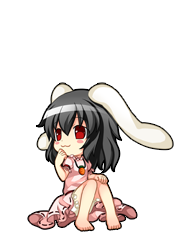 Affection: 0
- King's Game -
King's Game Lv. 1, 2 & 3
Affection: 0
- Extra -
Bunny Girl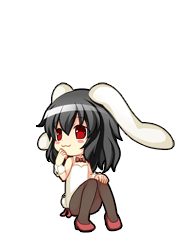 Affection: 250
Assist Danmaku
Defensive: ATK +5%
100% chance of activation.
Gifts
Likes: Gold Coin (150)
Indifferent: Scroll of Hyakki Yako (125), Ball of Yarn (50)
Dislikes: Sexy Underwear (-125), Decorational Blade (-75)
Starting Stats
HP: 50
MP: 66
REV: 27
ATK: 27
HIT: 47
DOD: 55
SPD: 18
Spellcards
Rabbit Sign "Great Fortune Crest"
[MP] 22
[HIT] 0
[CRI] 20
[Close] 0%
[Mid] 100%
[Far] 0%
Packs: 1 and 3
---
"Ancient Duper"
[MP] 18
[HIT] -10
[CRI] 0
[Close] 60%
[Mid] 0%
[Far] 60%
Packs: 1 and 2
---
Fortune "Lucky Clover"
[MP] 15
[HIT] 0
[CRI] 0
[Close] 0%
[Mid] 0%
[Far] 0%
Single-Target: Randomly increases damage, hit rate and evade rate by 25%
Packs: 1 and 3
---
Escaping Rabbit "Fluster Escape"
[MP] 57
[HIT] 5
[CRI] 10
[Close] 60%
[Mid] 80%
[Far] 80%
Def. Danmaku: HIT +9%, CRI +10%
Packs: 2 and 4
---
Borrow Sign "Oonamuji-sama's Medicine
[MP] 60
[HIT] 0
[CRI] 0
[Close] 160%
[Mid] 100%
[Far] 0%
Single-Target: Restores 30% HP.
Def. Danmaku: ATK +5%
Packs: 2 and 4
---
Runaway "Usagi Panic"
[MP] 80
[HIT] 0
[CRI] 0
[Close] 150%
[Mid] 100%
[Far] 60%
Off. Danmaku: MAX MP -10, HIT -10% ,CRI -10%
Pack: 3
---
"Moon Rabbit and Earth Rabbit"
[MP] 56
[HIT] 0
[CRI] 0
[Close] 250%
[Mid] 0%
[Far] 250%
Def. Danmaku: ATK +10%, CRI +8%
Pack: 4