Ad blocker interference detected!
Wikia is a free-to-use site that makes money from advertising. We have a modified experience for viewers using ad blockers

Wikia is not accessible if you've made further modifications. Remove the custom ad blocker rule(s) and the page will load as expected.
---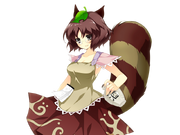 Avatars
- Default -
Default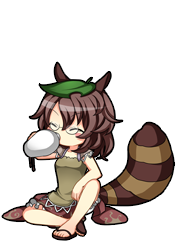 Affection: 0
- King's game -
King's Game Lv. 1, 2 & 3
Affection: 0
- Extra -
Ibara Kasen's Way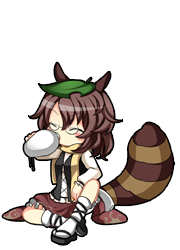 Affection: 150
Assist Danmaku
Defensive: HIT +15%, CRI +5%
25% chance of activation.
Gifts
Likes: Scroll of Hyakki Yako (250), Top-Quality Sake (200)
Indifferent: Gold Coin (75)
Dislikes: Boxed Desserts (-125)
Starting Stats
HP: 99
MP: 90
REV: 24
ATK: 38
HIT: 43
DOD: 34
SPD: 7
Spellcards
Duel "Primate Danmaku Transformation"
[MP] 14
[HIT] 0
[CRI] 0
[Close] 100%
[Mid] 0%
[Far] 0%
Packs: 1 and 3
---
Duel "Avian Danmaku Transformation"
[MP] 24
[HIT] 0
[CRI] 0
[Close] 0%
[Mid] 75%
[Far] 75%
Packs: 1 and 2
---
Duel "Amphibian Danmaku Transformation"
[MP] 45
[HIT] 5
[CRI] 0
[Close] 0%
[Mid] 0%
[Far] 190%
Off. Danmaku: MP -5, HIT -8%
Packs: 1 and 3
---
Duel "Carnivorous Danmaku Transformation"
[MP] 54
[HIT] 0
[CRI] 10
[Close] 80%
[Mid] 40%
[Far] 40%
Add Effect: Converts 15% of damage into HP.
Off. Danmaku: ATK -10%, CRI -7%
Packs: 2 and 4
---
"Mamizou Danmaku in Ten Transformations"
[MP] 60
[HIT] 0
[CRI] 0
[Close] 100%
[Mid] 160%
[Far] 0%
Off. Danmaku: ATK -5%, HIT -15%
Packs: 2 and 4
---
Raccoon Sign "Full Moon Pompokolin"
[MP] 80
[HIT] 0
[CRI] 0
[Close] 140%
[Mid] 100%
[Far] 75%
Def. Danmaku: MP +15, CRI +15%
Pack: 3
---
"Unidentified Barrage Transformation"
[MP] 30
[HIT] 0
[CRI] 0
[Close] 75%
[Mid] 75%
[Far] 75%
Add Effect: 25% chance to remove buffs.
Def. Danmaku: CRI +5%
Pack: 4