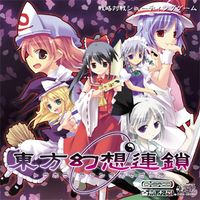 Touhou Gensokyo Rensa is an unofficial combat style touhou game where the players are flying and throwing danmaku against their opponent. It has been made by OHBA堂. It contains a Story mode, arcade mode, VS human mode, VS CPu mode, a training mode, and a watch mode were 2 CPU battle against each other.
Characters
Playable characters are
Reimu
Marisa
Sakuya (unlockable)
Remilia (unlockable)
Youmu (unlockable)
Yuyuko (unlockable)
Yukari (unlockable)
Gameplay
Player One buttons:
left: Q (for azerty keyboard) or A (for qwerty keyboard)
right: D
up :Z (for azerty keyboard) or Q (for qwerty keyboard)
down: S
basic attack: H
homing attack: J
heavy attack: K
Dash: L + direction
Melee combat: 2x L + direction
Use spellcard: H+J+K
Player Two buttons:
left: left arrow
right: right arrow
up: up arrow
down: down arrow
basic attack: 4 (numerical pad)
homing attack: 5 (numerical pad)
heavy attack: 6 (numerical pad)
Dash: 1(numerical pad) + direction
Melee combat: 2x 1(numerical pad) + direction
Use spellcard: 4+5+6
Notes on attacks: Range, effect and duration of each attack depend on the selected character. The speed of the bullets increases if you give a direction to the attack. Notes on spellcards: To increase the damage of the spellcard you most take the red power up. There are 3 levels of power
Level 1 will send some little fairies that fire very few bullets
Level 2 will send Lilly that is a little bit more effective
Level 3 is unique to each character. It will send a replica of the danmaku spellcard from the original Touhou games.
Ad blocker interference detected!
Wikia is a free-to-use site that makes money from advertising. We have a modified experience for viewers using ad blockers

Wikia is not accessible if you've made further modifications. Remove the custom ad blocker rule(s) and the page will load as expected.