---
Suika in Fan Culture
Suika is sometimes nicknamed 'Watermelon' because Suika means watermelon in Japanese.
According to fans, Suika is considered the most flat chested Touhou character. Because of this, there are some fanart where Suika is STEALING other character's breasts.
Another ability of her is that you cannot refuse drinking sake from her. We can see this ability with Rinnosuke and Shikieiki (3rd and 4th Touhou M-1 Grand Prix) and with Aya Shameimaru (Touhou Fantasy Kaleidoscope 2: The Red Mist Incident)
Fan Works Featuring Suika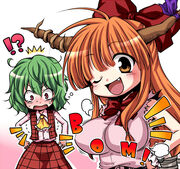 Ad blocker interference detected!
Wikia is a free-to-use site that makes money from advertising. We have a modified experience for viewers using ad blockers

Wikia is not accessible if you've made further modifications. Remove the custom ad blocker rule(s) and the page will load as expected.