---
東方三月精 ~

Strange and Bright Nature Deity 2
(
Touhou Sangetsusei
) -
Touhou Three Moon Fairies
Running Length

17:07
Catalog No.

N/A
Tracks
01.

可愛い大戦争のリフレーン

(04:00)

The Refrain of the Lovely Great War
03.

夜だから眠れない

(05:00)

Sleepless Due to the Night
04.

妖精燦々として

(04:28)

In Regards to Fairy Brilliance
Notes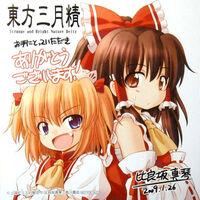 This music CD accompanied the second volume of the Strange and Bright Nature Deity comic.
Tracks 2-4 are slightly remastered versions of their Eastern and Little Nature Deity equivalents.
ZUN's Comments
01.

可愛い大戦争のリフレーン




描きおろしの漫画、妖精大戦争の続きをイメージした曲です。妖精大戦争は普通にシューティングのオープニングストーリーのイメージです。この曲はそのシューティングの道中曲といった感じ。漫画の後、妖精達が本当に大戦争するのか、はたまた桜の花に気をとられて大宴会になるのか、それは誰にも判りません。この曲の雰囲気ではどちらにも取れるかと思います。曲の入りは旅立ちっぽい雰囲気ですが、いざ旅立つとあちこちで寄り道して目的を忘れてしまう妖精のイメージを出してみましたが如何でしょうか?
01. The Refrain of the Lovely Great War
以下三曲は「東方三月精 

Eastern and Little Nature Deity

」からの再録です。ちょっとバランスを調整してありますが内容は同じです。漫画のサブタイトルが異なっているの、気づいた人っているのかなぁ。それぞれ、サニーとルナとスターのテーマになっています。
02.

サニールチルフレクション


03.

夜だから眠れない


04.

妖精燦々として
02. Sunny Rutile Flection
03. Sleepless Due to the Night
04. In Regards to Fairy Brilliance
---
Ad blocker interference detected!
Wikia is a free-to-use site that makes money from advertising. We have a modified experience for viewers using ad blockers

Wikia is not accessible if you've made further modifications. Remove the custom ad blocker rule(s) and the page will load as expected.