---
Fantasy Festa Online
Rumbling Spell Orchestra can be played over the net with a Java application called Fantasy Festa Online (FFO, made by Urakagi), and is widely used in Japan. It's a Japanese program, but the author is considering for English version if there's enough English users.
Install
Download the "Full Version" application at here, or by a directly link. You also need Java runtime environment (JRE) to execute the .jar file. When you are ready, double click FantasyFesta.jar to startup. (If it calls up your unzip applications, disable the jar file association.)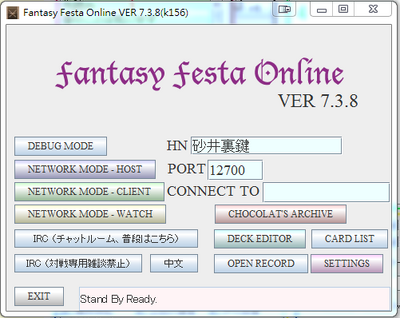 Build you deck
At the startup screen, click "DECK EDITOR" to open the deck editor.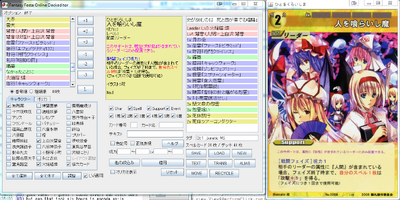 Use the arrow button or keyboard left/right to put in or remove cards from deck, you can also use filters under the screen. FFO also has a deck manager, you can access it by "CHOCOLAT'S ARCHIVE" button in startup screen.
It lists up your decks so you can find and modify them more quickly.
Play
To play, you need an opponent. (Well, you can play to yourself by launching two instance of FFO, though) If you know Japanese, click the biggest upper "IRC (...)" button, then in the new window click "SELECT SERVER", and connect.
If you want to use your own IRC client, visit IRCNet (Server list) with character encoding ISO-2022-JP, then join channel #幻想ノ宴.
If you don't know Japanese, #cardmaiden channel in irc.ppirc.net is fine.
Once you found an opponent, one of you need to be "host". The host provides his IP, and the client put the IP into the "CONNECT TO" box in startup screen. The host click "NETWORK MODE - HOST", then the client click "NETWORK MODE - CLIENT", and you will be bring to game play screen.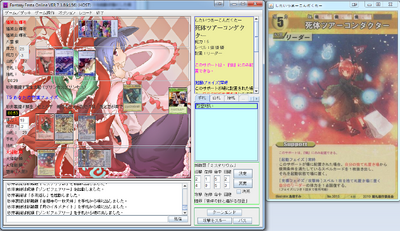 Load your deck by "Game/Deck" menu, or Ctrl-O hotkey. Also you can use Chocolat's archive (hotkey Ctrl-/), choose a deck and click PLAY to load. In the playing screen, right click on cards to play or move them. Many parts are automatically handled, but it's better to check if that's right.
For more detailed usage, please check manual(Japanese), or visit IRC for help.
Images
The tool does not have card images in it, you need to get and setup the images by yourself. For detail, see http://www.csie.ntu.edu.tw/%7Eb89085/genuta/manual/html/main.html#icon (Japanese).
---
LackeyCCG
Rumbling Spell Orchestra can be played over the net with a RSO Plugin (made by Uzuill) for LackeyCCG. The plugin does require players to understand game rules, as its primary purpose is to handle things such as decks, shuffling, dealing, etc.
Playing field and Deck builder
Installation
Download the Lackey package from Here (Last update: 02/10/2010). When you have it fully downloaded, extract the files and run LackeyCCG.exe to play.
If you were using the old client version (pre 8/13/08), extract this one to a new folder, then copy over your decks from the /decks folder in the old to /plugins/RSO/decks in the new.
Playing
First create your deck using the deck editor. The plugin does not check for deck makeup, so be sure to set it up properly yourself. Remember that characters go in the characters section of the deck, and that there are 40 cards in a deck (not counting character cards), with up to 3 copies of any given card.
To play with someone else, go to the server tab, and either connect to the main Lackey server (requires the latest Lackey exe), or make your own. If you use the main server, you do not need to do anything special, but if you make your own, you will need to open/forward the necessary ports (or use a program like Hamachi). If you end up using Hamachi, remember to check the "Use Proxy Server" option when making a game.
Once you've connected and are in a game, go to deck editor and press the "Load to you" button to load your deck. It may help to check the "Text" box, which will display card data on mouseover.

For a place to learn the rules and to find people to play with, go to #cardmaiden on irc.ppirc.net
---
Ad blocker interference detected!
Wikia is a free-to-use site that makes money from advertising. We have a modified experience for viewers using ad blockers

Wikia is not accessible if you've made further modifications. Remove the custom ad blocker rule(s) and the page will load as expected.