Ad blocker interference detected!
Wikia is a free-to-use site that makes money from advertising. We have a modified experience for viewers using ad blockers

Wikia is not accessible if you've made further modifications. Remove the custom ad blocker rule(s) and the page will load as expected.
---
Official Themes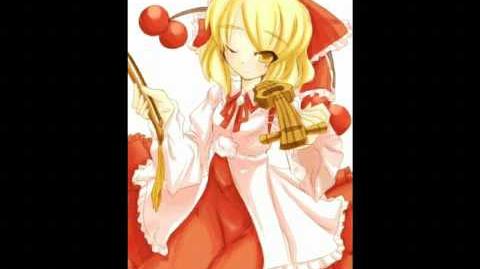 Rin has no official music.
Arranges and Remixes
Cherry Flavored Justice ~ Descending Red (on the right) : A fan made theme for Rin Satsuki.
Dreamy Pilot (Originally from Lotus Land Story) is also considered Rin's Theme thanks to JynX's Phantasmagoria of Dim. Dream April Fools video and the NicoNico contest video entry.
☀https://www.youtube.com/watch?v=tzGjSwOxTQc (Phantasmagoria of Dim. Dream Re)
☀https://www.youtube.com/watch?v=tUmNdBUoGTY (NicoNico Contest Entry)
Rin makes an appearance as the extra stage boss in the fan album: "東方奇界泉 ~ Adventures in Inferno"
☀https://www.youtube.com/watch?v=4OwFBd2IeUI (Future Century Stellar ~ Odd Spring Boundary of the East)