---
Main Profile

Rin Satsuki was the third playable character of Embodiment of Scarlet Devil who was cut during production but still managed to leave a trace in the source code. If you do a text search of the EoSD data files, you can find the name "冴 月麟" (Satsuki Rin) near the other playable characters. Associated with her are the attack types 花符 (Flower Sign) and 風符 (Wind Sign). An alleged portrait of her (or an otherwise unknown character) appears on Team Shanghai Alice's circle ad in the Comiket when EoSD was first released.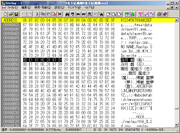 Ad blocker interference detected!
Wikia is a free-to-use site that makes money from advertising. We have a modified experience for viewers using ad blockers

Wikia is not accessible if you've made further modifications. Remove the custom ad blocker rule(s) and the page will load as expected.