---
Book Synopsis
Bohemian Archive in Japanese Red
Main article: Article and Interview: Ran
Brief summary of the article goes here.
Perfect Memento in Strict Sense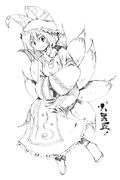 Main article: Perfect Memento: Ran Yakumo
The greater the number and length of tails that a fox has, the stronger and smarter it is.
Ran is considered the top class of animal youkai with a full nine long tails.
She's extremely intelligent and is much better at math than any human.
She is Yukari Yakumo's shikigami and must do whatever Yukari commands her to do, which means Yukari must be even stronger.
Although Ran lives in Yukari's house, she spends much of her time doing Yukari's chores for her because Yukari's too lazy to do them herself.
Ran's own shikigami, Chen, is too unreliable to entrust with doing chores.
She shops in the Human Village for tofu, among other things.
Fortunately, her personality is mild and she's unlikely to cause trouble while around humans, so the villagers have nothing to fear.
She has no real weaknesses.
The Grimoire of Marisa
Main article: The Grimoire of Marisa: Ran Yakumo's Spell Cards