Ad blocker interference detected!
Wikia is a free-to-use site that makes money from advertising. We have a modified experience for viewers using ad blockers

Wikia is not accessible if you've made further modifications. Remove the custom ad blocker rule(s) and the page will load as expected.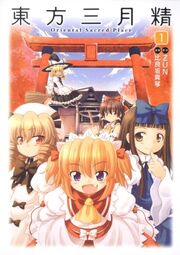 ---
From 2009-05 (CompAce July 2009), as the sequel to 東方三月精 ~ Eastern and Little Nature Deity and 東方三月精 ~ Strange and Bright Nature Deity, 東方三月精 ~ Oriental Sacred Place (romanized: Touhou Sangetsusei, meaning "Eastern Three Fairies") was drawn by Makoto Hirasaka and written by ZUN.
Volume 1 was released on March 20th, 2010, along with a CD.
OSP Complete
Compilation of all the chapters.
Volume 1
OSP Chapter One
Artist:
Makoto Hirasaka
Translated by RasberryIcecream, edited by Mr_Ark
OSP Chapter Two
Artist:
Makoto Hirasaka
Translated by RasberryIcecream, edited by Mr_Ark
OSP Chapter Three
Artist:
Makoto Hirasaka
Translated by Teesh, edited by Teesh
OSP Chapter Four
Artist:
Makoto Hirasaka
Translated by Professor Scissors
OSP Chapter Five
Artist:
Makoto Hirasaka
Translated by tondemonaifs
Download
Torrent
OSP Chapter Six
Artist:
Makoto Hirasaka
Translated by
UMAD Scans
OSP Chapter Seven
Artist:
Makoto Hirasaka
Translated by
UMAD Scans
Volume 2
OSP Chapter Eight
Artist:
Makoto Hirasaka
Translated by
UMAD Scans
OSP Chapter Nine
Artist:
Makoto Hirasaka
Translated by
UMAD Scans
OSP Chapter Ten
Artist:
Makoto Hirasaka
Translated by
UMAD Scans
OSP Chapter Eleven
Artist:
Makoto Hirasaka
Translated by
UMAD Scans
OSP Chapter Twelve
Artist:
Makoto Hirasaka
Translated by
UMAD Scans
OSP Chapter Thirteen
Artist:
Makoto Hirasaka
Translated by
UMAD Scans
Volume 3
OSP Chapter Fourteen
Artist:
Makoto Hirasaka
Translated by
UMAD Scans
OSP Chapter Fifteen
Artist:
Makoto Hirasaka
Translated by
UMAD Scans
OSP Chapter Sixteen
Artist:
Makoto Hirasaka
Translated by Horrible Trans
OSP Chapter Seventeen
Artist:
Makoto Hirasaka
Translated by Horrible Trans
OSP Chapter Eighteen
Artist:
Makoto Hirasaka
Translated by Horrible Trans
See also
---