---
Extra Stage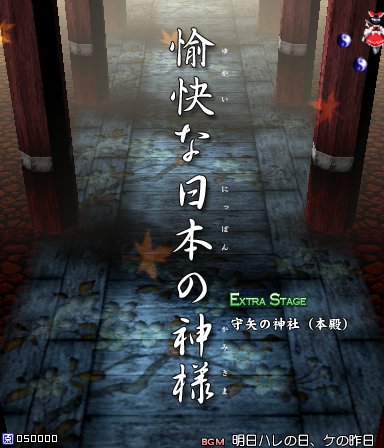 愉快な日本の神様

A Merry Japanese God

守矢の神社(本殿)

Moriya Shrine (Inner Sanctum)

BGM: 明日ハレの日、ケの昨日

BGM: Tomorrow Will Be Special; Yesterday Was Not

Kanako Yasaka ENTERS

Kanako

あら、もしかしてこの先に進むつもり?

駄目よ永遠に眠り続ける私の友人が居るんだから

Oh, are you trying to go further ahead?

You can't; there rests my ever-sleeping friend.

Kanako Yasaka DEFEATED

Reimu

神奈子が言ってた友達って……

やっぱり神様なんだろうなぁ

If she's Kanako's friend ...

That must mean she's another god ...

Suwako Moriya ENTERS

Suwako

誰が友達ですって?

私の神社を勝手に幻想郷に送り込んでおいて

よくもまぁ、いけしゃあしゃあとそんな事言えたもんだ

あんな女、敵よ敵

Who said we're friends?

She selfishly sent my shrine into Gensokyo ...

Then she shamelessly said, 'Oh! Don't worry, it'll be okay'.

That kind of woman is an enemy. An enemy!

Reimu

この神社は神奈子の神社じゃないの?

Isn't this shrine Kanako's?

土着神の頂点

洩矢 諏訪子

The Leader of Native Gods

Suwako

あーうーまあ、私の神社だったんだけどねぇ

Auuuuu ... Well, it used to be my shrine, you know?

Reimu

だった?

Used to?

Suwako

昔、神奈子に敗れてからはあいつの神社ね仕方がない

でもまあ、神社は自由にさせてくれるし私への信仰も増えたし

まあ、感謝はして無くもないけど

それより何よ貴方は麓の巫女でしょ?

A long time ago, I got beaten by Kanako, so now it's her shrine. Can't help that.

But you know what, I'm free to stay around the shrine, and people's faith in me has risen.

It's not like I'm not grateful, I guess ...

Anyway, what're you doing here? You're the shrine maiden from down below the mountain, right?

Reimu

いやまあ、この神社の秘密を探りに来ただけなんだけどね

何だかんだ言って二人とも仲良さそうだしま、帰ろうかな?

Well, ah, I came to find out the secrets of this shrine.

It looks like you're on pretty good terms with those two, I think I'll be going back now.

Suwako

何言ってるのよ早苗とも神奈子とも遊んだんでしょ?

私だけ無視して巫女が務まるとでも思ってるの?

What are you saying? You got to play with Sanae and Kanako, right?

Do you think you'd be fit to be a shrine maiden if you ignored only me?

Reimu

思ってますが

Well, yes.

BGM: ネイティブフェイス

BGM: Native Faith

Suwako

もー! 巫女なら知っておきなさい!

「お祭り」は別名「神遊び」と言って神様が人間と遊ぶ事なの!

Geez! You're a shrine maiden, so you should know this!

"Omatsuri" festivals are also known as "kami asobi", which means it's a time when gods play with humans!

Reimu

もしかして、前に早苗や神奈子と戦ったりしたのって……

Don't tell me, those battles with Sanae and Kanako were ...

Suwako

そう、ただの神遊び、つまりお祭り
今日は私の弾幕お祭りの番よ!

Yep, just a little god play, or festivals.
Today it's my turn to have a danmaku festival!

Suwako Moriya DEFEATED

Suwako

あはははは。天晴れだわ一王国を築いたこの私が、人間に負けるとは

Ahahahaha. Simply admirable for a human to defeat a god who's built up a country by herself.

Reimu

何がお祭りなのかしらただの弾幕じゃないの

What was all that about a festival? Isn't this just normal danmaku play?

Suwako

だから、お祭りとは神様が遊ぶ事
日常感覚を離れた晴れの日の事よ

Like I said, festivals are a time for gods to play.
It's like a sunny day where you leave all your everyday cares behind.

Reimu

ふーん割と弾幕は日常感覚だけどね

Hmmm, but danmaku is an everyday thing ...

Suwako

これだけ強い人間が居るのなら幻想郷に住むのも悪くはないわね

If the humans that live here are this strong, maybe it's not so bad to live in Gensokyo.

Reimu

あら私、余計な事したかしら?

Oh my, I wonder if I overdid it?

Suwako

もう住み込む事に決めたから

そうだ、貴方の神社でもお祭りを始めればいいんじゃないの?

そうすればきっと人間も集まるよ

It's decided then.

That's right, wouldn't it be great if we start having festivals at your shrine?

If we did that, I bet a lot of people would come.

Reimu

弾幕祭り?集まるかなぁ

A danmaku festival? I wonder if anyone would really come ...

Suwako

集まるってば日にち決めて例大祭とかやれば良いのよ

Of course they will! Let's figure out how long it should be; it would be nice to have an annual grand festival (the literal meaning of Reitaisai).

Reimu

まあ良いけどね

この神社の秘密が少し判ったから今日はもう帰るわよ?

I suppose ...

I know a little more about the secrets of this shrine now, so I'm going home for today, okay?

Suwako

貴方の神社の参拝客が増えなかったり神奈子が変な事をしていたら

私に相談してね

If you don't get more visitors, or if Kanako does anything strange ...

Come see me about it, okay?

Reimu

はいはい

Okay, okay.

Suwako

神奈子が持っている神徳も信仰心も殆どが、私の力なんだから

After all, Kanako's faith and divine virtues are mostly thanks to me.

Reimu

今なんと?

What did you just ... ?

Suwako

私は実務。神奈子は営業ま、そんな所かしら?

I provide the divine services. I guess you could say that Kanako does the sales.

Reimu

神様の世界も世知辛いのねぇ……

The world of the gods is a tough place, isn't it ... ?
---
Return to Mountain of Faith: Translation
Ad blocker interference detected!
Wikia is a free-to-use site that makes money from advertising. We have a modified experience for viewers using ad blockers

Wikia is not accessible if you've made further modifications. Remove the custom ad blocker rule(s) and the page will load as expected.