Ad blocker interference detected!
Wikia is a free-to-use site that makes money from advertising. We have a modified experience for viewers using ad blockers

Wikia is not accessible if you've made further modifications. Remove the custom ad blocker rule(s) and the page will load as expected.
犬のお巡りさん (Doggy Policeman) is a children's song. Meruporin is singing the opening line, except she says かえるちゃん (Froggy) instead of 子猫ちゃん (Kitty). Also, she ends the sentence differently due to her manner of speaking, but it still fits the tune.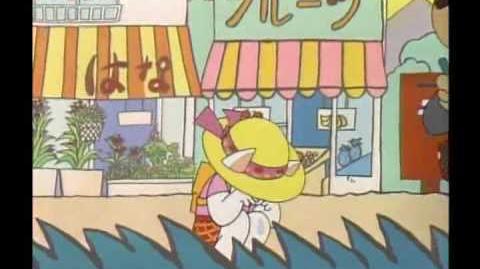 Doggy Policeman

Traditional

迷子の迷子の子猫ちゃん
あなたのおうちはどこですか
おうちを聞いても分からない
名前を聞いても分からない


maigo no maigo no koneko-chan
anata no o-uchi wa doko desu ka
o-uchi wo kiite mo wakaranai
namae wo kiite mo wakaranai


Lost little, lost little kitty-kitty
Where is your home, where could it be?
I've heard your home but it I do not know
I've heard your name but it I do not know


ニャンニャンニャニャン
ニャンニャンニャニャン
泣いてばかりいる子猫ちゃん


nyan nyan nya nyan
nyan nyan nya nyan
naite bakari iru koneko-chan


Meow meow meow meow
Meow meow meow meow
She could only cry, the little kitty


犬のお巡りさん
困ってしまって
ワンワンワンワン
ワンワンワンワン


inu no o-mawari-san
komatte shimatte
wan wan wan wan
wan wan wan wan


And then the doggy policeman
was puzzled and upset and
bow wow bow wow
bow wow bow wow


迷子の迷子の子猫ちゃん
このこのおうちはどこですか
カラスに聞いても分からない
すずめに聞いても分からない


maigo no maigo no koneko-chan
kono kono o-uchi wa doko desu ka
karasu ni kiite mo wakaranai
suzume ni kiite mo wakaranai


Lost little, lost little kitty-kitty
This home of yours, where could it be?
We asked the crow but he does not know.
We asked the sparrow but she does not know.


ニャンニャンニャニャン
ニャンニャンニャニャン
泣いてばかりいる子猫ちゃん


nyan nyan nya nyan
nyan nyan nya nyan
naite bakari iru koneko-chan


Meow meow meow meow
Meow meow meow meow
She could only cry, the little kitty


犬のお巡りさん困ってしまって
ワンワンワンワン
ワンワンワンワン


inu no o-mawari-san komatte shimatte
wan wan wan wan
wan wan wan wan


And then the doggy policeman
was puzzled and upset and
bow wow bow wow
bow wow bow wow