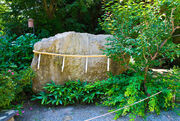 The Keystone is a holy object that can (among other properties) invoke or suppress earthquakes. Based from Eirin, it is heavy object made of black granite.
Tenshi uses keystones in a number of ways, including: as danmaku weapons, as a cushion to sit on, as a bludgeon to attack with, and also as a possible counterpart to Reimu's Hakurei Yin-Yang Orb.
Keystones are said to be able to suppress earthquakes by pressing down and preventing the movement of the giant earthquake-causing catfish that live underground.
Keystones come in different sizes and shapes, and in Touhou, only Tenshi or other celestials seem know how to use them, although at least Iku Nagae and Yukari Yakumo appear to also be aware of the keystone's powers and properties. It also reveals that Eirin knows the Keystone's functions and the Clan which Tenshi belongs to.
See also