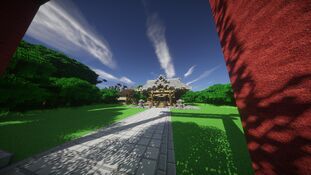 italktowalls is the admin and creator of the Touhou Minecraft server, TouhouCraft. He recreated all of Gensokyo in Minecraft. He used canon material to get Gensokyo as close to what it would have looked like if it were all placed on a single map.
TouhouCraft Server
The server was founded on Aug 27th 2010. It began in Minecraft Classic, and has since then moved to the full release of the game. The Gensokyo map has been worked on continuously since then. The server is public and open to everyone.
The Touhou Server's IP: touhoucraft.servegame.com
•Touhou Discord (Voice/Text): https://discordapp.com/invite/0U6KAap475x9ZnWt
•Forums: http://touhoucraft.boards.net
•Deviantart Group: http://touhoucraft.deviantart.com
Texture Pack
italktowalls has also created a Touhou-themed resource pack.
It can be found here. http://www.minecraftforum.net/forums/mapping-and-modding/resource-packs/wip-resource-pack/1258890
Update Videos