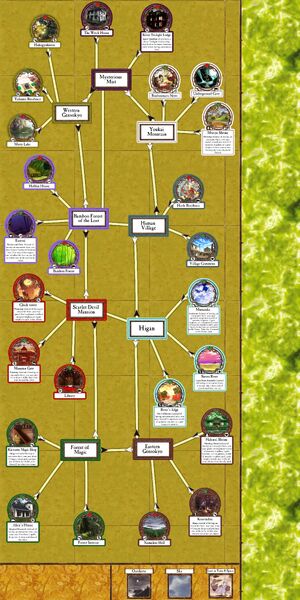 ---
Return to Gensokyo Horror
---
Design Philosophy
The prototype board in development mirror traditional Arkham locations in special abilities and encounter types for balance reasons, but many of the locations are in different spots compared to the traditional Arkham Horror board.
Considerations have been made to match the locations on the board as close as possible with their counterparts in Gensokyo, but only a certain amount of areas are allowed to connect to each other and in some cases the locations are not perfect matches (for example: Misty Lake and the Scarlet Devil Mansion).
Using the Board
This board is meant to be used over the traditional Arkham Horror board, the blank Outer World area and Terror Track area are only included on this board to give a sense of proportion, the normal Outer World locations and Terror Track are meant to be used with Gensokyo Horror.
Ad blocker interference detected!
Wikia is a free-to-use site that makes money from advertising. We have a modified experience for viewers using ad blockers

Wikia is not accessible if you've made further modifications. Remove the custom ad blocker rule(s) and the page will load as expected.