---
Fun Facts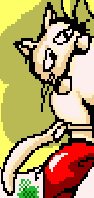 Ellen appears on the cover of Phantasmagoria of Dim.Dream along with all the other characters in that game.
Ellen's outfit may have been the inspiration for Marisa's outfit later on in the Windows series. Her alternate outfit is even black.
One of Marisa's Palettes in Touhou Hisoutensoku resembles Ellen.
Her pet cat, Sokrates, is said to rarely leave Ellen's side. In fact, the only time Ellen is seen without him is when she casts a spell card.