Ad blocker interference detected!
Wikia is a free-to-use site that makes money from advertising. We have a modified experience for viewers using ad blockers

Wikia is not accessible if you've made further modifications. Remove the custom ad blocker rule(s) and the page will load as expected.
---
Official Themes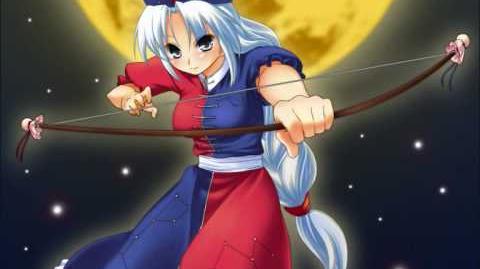 Gensokyo Millenium ~ History of the Moon (on right): Eirin's Theme from Imperishable Night.
Voyage 1969 : Theme does not belong to Eirin, she appears as a midboss.
Arranges and Remixes
Please do not embed video, instead, provide a link and brief description
Gensokyo Millenium ~ History of the Moon : Remix by ARA
Gensokyo Millenium ~ History of the Moon : Orchestral by Tutti Sound
Gensokyo Millenium ~ History of the Moon : Orchestral Arrange
Gensokyo Millenium ~ History of the Moon : Arrange by O-Life Japan
Gensokyo Millenium ~ History of the Moon : Rock remix by dBu from the album Eternal Nocturne
Gensokyo Millenium ~ History of the Moon : Piano arrangement by marasy8
Gensokyo Millenium ~ History of the Moon : Rock remix.
Gensokyo Millenium ~ History of the Moon : Metal remix by IRON ATTACK!
Gensokyo Millenium ~ History of the Moon : Vocal arrange by Sync.Arts
Gensokyo Millenium ~ History of the Moon : Kirby remix
Voyage 1969 : Arrange by Lost Garden
Voyage 1969 : Rock remix by dBu from the album Eternal Nocturne
Voyage 1969 : Rock remix by C-Clays
Voyage 1969 : Metal/Rock remix by CROW'SCLAW
Voyage 1969 : Vocal arrange by EastNewSound
Voyage 1969 : Vocal arrange by FELT
Voyage 1969 : Vocal arrange by Syrufit
Voyage 1969 : Vocal arrange by Halozy
Voyage 1969 : Vocal arrange by Yuuhei Satellite