Ad blocker interference detected!
Wikia is a free-to-use site that makes money from advertising. We have a modified experience for viewers using ad blockers

Wikia is not accessible if you've made further modifications. Remove the custom ad blocker rule(s) and the page will load as expected.
---
Stage 4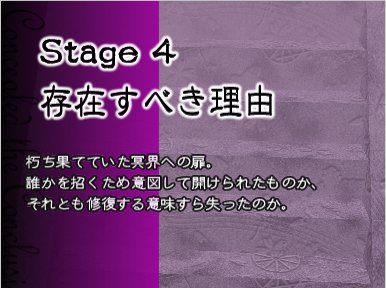 存在すべき理由

A reason for existence.

朽ち果てていた冥界への扉。
誰かを招くために意図して開けられたものか、
それとも修復する意味すら失ったのか

The door to the underworld that has rotten
Was it opened to invite someone?
Or has it even lost its meaning to be repaired?

BGM: ティアオイエツウォン

BGM: Diao Ye Zong

??

ああもう、二人して気が早いんだから

Ah, sheesh. Those two are so impatient.

Chen ENTERS

Ran Yakumo ENTERS

Chen and Ran Yakumo EXIT

Yukari Yakumo ENTERS

Marisa

こんなところに居たのか
探す手間が省けたぜ

Ah you were lying around here?
That would save me time searching.

Yukari

フフ、あなたのすることくらい
何もかも分かっていたわ

Fufu, I already knew anything and everything
about what you were going to do.

幻想の境界

八雲 紫

Border of Phantasm

Yukari Yakumo

Yukari

霊夢を探していることも
そして私に何の用かも、ね

That you're searching for Reimu,
and that you have some business with me, yes?

Marisa

お前に先読みされても何も驚かないぜ
むしろ話を切り出しやすいくらいだ

Even though I was just read like a book, it's nothing surprising.
It's rather easier to start the conversation this way.

Yukari

私もそう思って
あなたになんて答えるべきか考えていたの

この残酷な話をあなたが本当に
受け入れられるのか、って

I thought so as well.
So I've been thinking what response I should give you.

"Would you really accept such a sad story as this?"

Marisa

…は?
冗談はよしてくれ

森羅万象のルール無視のお前が
霊夢一人すら生き返せられない――

なんてオチは無しだぜ?

...meaning?
Stop kidding around

Someone who ignores the rules of nature like you
can't even bring Reimu by herself back to life--

Why isn't there some punch line?

Yukari

…その通りよ?

...exactly?

Marisa

何でだよ?いつものように生と死の境界を
サクっと弄くって終わりじゃないのか?

Why? Can't you just manipulate the
boundary between life and death like you do always and be done with it?

Yukari

確かにね、境界操作で一応は生き返るわ

でもね、もう生き返す意味がないの

Indeed, I could for a time change the boundary and bring her back to life.

However you see, there is no longer any meaning to it.

Marisa

何言ってるんだよ

ミナミの、ってわけじゃないが
博麗神社に居てこそ霊夢だろう

白玉楼の霊夢って言われても
それはなんか違うと思うぜ?

What are you saying?

The south... not really... but
Reimu is her because she is from the Hakurei Shrine

Reimu from the Hakugyokurou,
Don't you think something's wrong with that?

Yukari

本当にあなたはそう思うのかしら?

Is that really what you think?

Marisa

思うも何も、それが幻想郷の常識だろ?

What I think or whatever, isn't that just common sense in Gensoukyou?

Yukari

そうね、常識ね…
確かにそれが幻想郷の常識よ

でもね…常識は突然に
ひっくり返ることだってあるのよ?

Yes, common sense...
Indeed, that is common sense in Gensoukyou.

But you see, common sense can suddenly been turned on its head.

Marisa

あーッ!もういいぜ

お前が素直に話を聞いてくれると
思った私が馬鹿だったわ

Ohh! Enough already!

I was a fool to think you would just
answer my question for me!

BGM: 夜が降りてくる ~ Evening Star

BGM: Night Falls ~ Evening Star

Marisa

いいか、今からお前を
力ずくでも霊夢のところまで連れて行く

素直についていくか、とっちめてから
連れ去られるか40秒で選びな

Got it? I'll make you take me to
where Reimu is even if I have to force you.

Now I'll give you 40 seconds to decide if you'll come
quietly or if I'll have to force you with me.

Yukari

魔女が今私を連れ去ろうとしているよ~

The witch is trying to kidnap me now...

Marisa

この期に及んでふざける気か
後者希望で文句はないな?

Are you stalling by fooling around?
So, no objection on the latter choice?

Chen and Ran Yakumo ENTER

Chen, Ran Yakumo, and Yukari Yakumo DEFEATED

Yukari

驚いたわ、あなた強くなったじゃない

I'm surprised, you've gotten stronger.

Marisa

私は普通に幻想郷最強最速だぜ

I'm the strongest and fastest in Gensoukyou as usual.

Yukari

そうね、128本の指くらいには
入るんじゃないかしら?

Yes, you might be in one of the 128 fingers.
[There is an expression 'be in one of the 5 fingers' to mean be in the top 5]

Marisa

何処の気持ち悪い生き物だよ

何にせよこれで文句はないな?
おとなしくついてきてもらうぜ

What kind of creepy creature is that?

Any more complaints, then?
Just come with me quietly.

Yukari

じゃあ私はお先に
霊夢のところまで行ってきますわね?

Then, I'll go ahead.
I'm going to where Reimu is, okay?

Marisa

ちょッ!私もスキマで連れてけっての!

Hey--! Take me with you through the crack!
Stage 5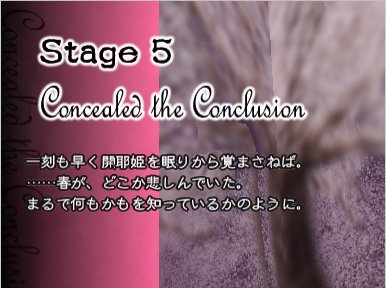 Concealed the Conclusion

Concealed the Conclusion

一刻も早く咲耶姫を眠りから覚まさねば。
…春が、どこか悲しんでいた。
まるで何もかもを知っているかのように。

The Sakuyabime must be awakened at once.
The Spring was somewhat sad.
As if it knew everything.

BGM: 青木ヶ原の伝説

BGM: Legend of Aokigahara

Youmu Konpaku ENTERS

Youmu Konpaku DEFEATED

Marisa

出て来いよ、どうせ居るんだろ?

Come out, I know you're here!

Yuyuko Saigyouji ENTERS

Yuyuko

あら、ばれていたのね?

久しぶりじゃないの
もう一年近く会ってないわね

My, was I discovered?

It's been quite a while, hasn't it?
Nearly a year since we last met.

Marisa

なんでお前といい
今日はやたら絡み付いてくるんだ?

おかしいぜ、みんな私に
なにか隠してるだろ?

Why are you and the others getting in my way?
Today's just getting weirder and weirder.

It's strange, is everyone hiding something from me?

幽冥楼閣の亡霊少女

西行寺 幽々子

Ghostly girl in the Netherworld Tower

Yuyuko Saigyouji

Yuyuko

今日が幻想郷最後の日なのよ

Today is Gensokyo's final day.

Marisa

あのスキマと言いお前と言い
冗談がうまくなったな、笑えないぜ

霊夢が死んだら幻想郷も終わりってか?
お前らホントに頭大丈夫かよ?

What that crack said and what you say,
you're just to good at jokes that I'm not laughing.

Reimu is dead and Gensoukyou is ending?
Are you really okay in the head?

Yuyuko

今日は比較的本気よ。
あなた紫から何を聞いていたのかしら?

霊夢が死ぬことで常識は覆り
壮大なストーリーは幕を下ろすわ

…今日のあなたは本当に鈍いのね。
妖夢より酷いわよ?

I'm relatively sane today.
I wonder what you heard from Yukari?

As Reimu is dead, common sense overturned,
now the curtain on a magnificent story will fall.

You're really being slow today,
More serious than Youmu, even.

Marisa

…夢は…終わる…?

... The dream... is ending?

Yuyuko

そう、もし幻想郷、いやこの世界
そのものが霊夢の見ている夢で

あなたの知ってる霊夢は現を実体化した
傀儡に過ぎないとしたら?

Yes, if Gensokyo, rather, this world
is all but Reimu's dream,

What if the Reimu you know is just a puppet
that made the phantom into reality?

Marisa

そんな…霊夢は…
この幻想郷そのもの…

No way... Reimu is...
this Gensokyo itself...

Yuyuko

あの霊夢以外の森羅万象はこの
夢の世界で作られた役者なのよ

そして役目を終えた舞台は解体され
役目を終えた役者は…

Every living thing other than Reimu is
but an actor created in this dream-world.

And when the performance is finished, the stage is broken down,
and when their duty is done, the actors...

Marisa

…って、いい加減にしろ!
そんな馬鹿な話あるかよ?

大体お前ら幻想郷最強コンビで
今までこの楽園を維持してきたんだろ?

何とかならないのかよ!
お前らならどうにかなるだろ?あぁ!?

... then, give me a break!
Is such an idiotic story really true?

Anyway, aren't you Gensokyo's strongest duo.
Haven't you been keeping up this garden all this time?

Do something!
Can't you do something? Ahh!

Yuyuko

馬鹿!夢の中に出てくる役者が
夢を見ている本人に何が出来るってわけ?

…もう、何もかもおしまい。
あとは各々の遣り残したことをやるのみよ

Fool! You think an actor in someone's dream,
can do something to the person who's seeing the dream?

... sheesh, everything is over.
All there's to do is finish up what's left to do.

Marisa

…霊夢はまだここにいるんだな

...Reimu is still here, then.

Yuyuko

そうね
まだ日没までは大丈夫と思うわ

Yes.
It should be okay till sunset.

Marisa

案内してくれ。直に話がしたい
それが私の遣り残したことだ

Guide me. I want to talk to her in person.
That's what I have left to do.

Yuyuko

…私の遣り残したことはね

...and what I have left to do is...

BGM: 広有射怪鳥事 ~ Till When?

BGM: Hiroari Shoots a Strange Bird ~ Till When?

Yuyuko

あなたをとり殺すことよ

Is to kill you.

Marisa

お前…
私を霊夢に会わせる気更々無いだろ?

あぁ、ここまで来るのは久々だな
…素でぶち切れたぜ

You...
You have no intention of letting me meet Reimu, do you?

Aah, it's been a while since I came all the way here.
...now you made me snap absolutely.

Yuyuko

あら、ここが何処なのか
分かって言ってるのかしら?

あなたが生きても死んでも
最終的に霊夢に会うことは出来てよ?

Oh, where is this?
Shall I explain it to you?

Whether you are alive or dead,
in the end will you be able to meet Reimu?

Marisa

いいよもう喋らなくて。
そのまま消えちまえよ!

Fine, no more talking.
Just disappear!

Yuyuko Saigyouji DEFEATED

Marisa

もういいぜ
この程度じゃ全く気が治まらないが

お前幽霊だから消すにも消えないし
なんにしても時間の無駄だったぜ

Sheesh, enough.
At this rate, I'll never be satisfied.

You're a ghost, so even if you disappear, you can't disappear.
This is all just a waste of time.

Yuyuko

私にとっては有意義だったわよ?

あなた、こうでもしないと
勝負に乗ってくれなかったでしょ?

I found it satisfying.

If I won't be like this,
you wouldn't have fought me had you?

Marisa

何で今日に限って
みんな私に弾幕して来るんだよ?

Why today,
has everyone has danmaku'd with me?

Yuyuko

今日が最後なのよ?

Because today is the end?

Marisa

……

……
Final Stage
夢、終える時

When ending the dream

そこに箱船はあるのだろうか。
四十もの昼夜楽園を濡らす雨の刻まで
もう一刻あまりしか残っていなかった。

Is there a Noah's ark here?
Until the time when rain shall coutinue for 40 days
and 40 nights over the paradise, there was only little time left.

BGM: 53ミニッツの青い海

BGM: Blue Sea of 53 Minutes

Yukari Yakumo ENTERS

Yukari

フフ、お待たせ

Fufu, thanks for waiting.

Marisa

で?今更生き返す気になったのかよ
もう意味も無いのに

So? Have you decided to revive her?
Even though there's no meaning to it.

Yukari

その言葉、そのままそっくりお返しするわ

Those words, I'll give straight back to you.

??

もういいわ紫、あなたが言っても
どうせ全て嘘に聴こえるんだから

Enough, Yukari, even if you say it,
she'll only hear it as lies.

Yuyuko Saigyouji ENTERS

Yuyuko

もう一つ遣り残したことがあるんだけど
最後になると諦めつかないのよねー

だからその前に、ね

Although there is only one thing left to do,
I can't give up until the end,

So, before I do that -

Marisa

その前に何だよ

Before that you do what?

Yukari
Yuyuko

最後の一勝負!
最後の一勝負!

One final battle!
One final battle!

Yukari Yakumo and Yuyuko Saigyouji DEFEATED

Marisa

いい加減にしろ
いつまで逃げ回ってるんだ霊夢

Give me a break.
How long are you going to run around, Reimu?

Reimu Hakurei ENTERS

Reimu

私はここにいるわ

紫や幽々子から話は聞いたでしょう?

I am here.

You have heard from Yukari and Yuyuko, correct?

Marisa

あぁ、おかげでお前に聞きたいことが
ありすぎて迷うくらいだ

Ah, thanks to them, I want to ask you so much
I'm getting dizzy.

楽園の素敵な巫女

博麗 霊夢

Wonderful Shrine Maiden of Paradise

Reimu Hakurei

Reimu

もう時間は殆ど残ってないわ

There is almost no time left.

Marisa

それも分かってるぜ…でも
本当はもう少し時間あれば

一緒に茶でも飲んで最後の最後まで
ゆっくり語っていたかったんだがな

ズルいぜ
私に何も言わないで消えちまうなんて

I know that already, but...
If there's really only a little time left,

I'd want to just drink some tea together, and
leisurely talk together.

You are sneaky
to run off like that telling me nothing.

Reimu

あなただけ贔屓になんて出来ない
あなたたちは全て私の前に平等な存在

残酷だけど、最初から知ってて
そして誰にも打ち明けなかったわ

I can't show favor only to you.
All of you are all equals to me.

It's cruel, but I knew it from the beginning.
And I did't tell the truth to anyone.

Marisa

私とそこいらの魑魅魍魎と同じ扱いかよ
…ひどいぜ

You're treating me the same as those evil spirits back there?
... how cruel.

Reimu

それでいいの。私は博麗の巫女よ

That's good. I am the Hakurei Shrine Maiden.

Marisa

なぁ霊夢、本当に全部消えちまうのか?
今から動いてもどうにもならないのか?

Hey, Reimu, is everything really going to disappear?
Is there nothing I can do even now?

Reimu

私は昔から言っていたはずよ
努力ほど無駄なものはないって

今まで
私の我侭に付き合ってくれてありがとう

そして、ゴメンね。

I have always said this from long ago,
that there is nothing as useless as effort.

Thank you for dealing with my selfishness,
until now.

And, I'm sorry.

Marisa

……

……

Reimu

…もう、これで最期になるけど…
何か言いたいことない?

...So, this is going to be the end soon...
Don't you have something you want to say?

Marisa

…もういいぜ、分かったよ

どうしてもこれが
避けられぬ運命だと言うなら

最期の決闘相手が霊夢だというのも
また運命だ

...fine, enough. I get it.

If there's no way to avoid it,
and this is truly fate,

then having you as my final dueling parter
must also be fate.

Reimu

あんたは私に勝ちたいの?
それとも私に勝って欲しいの?

You wish to defeat me?
Or do you wish to be defeated?

Marisa

勿論勝ちたい…いや
100%本気のお前に勝ちたい!

お前に幻想郷永遠の勝敗を賭けて
最終弾幕決闘を申し込む!

Of course I want to win... or...
I want to win when you are giving 100%!

To bet on Gensokyo's eternal fate,
I propose a final danmaku duel!

Reimu

このままでいれば日没くらいまでは
私ここにいられるけど

弾幕勝負始めたら最後、私の体なんて
もう最悪数分しか持たないわ

Although I can probably last here like this
until the sunset if I stay calm,

Starting a danmaku battle will be the end, for my body,
and there would only be a few minutes left at worst.

Marisa

……

……

Reimu

……

…分かったわ
あんたがそれを望むなら…

...

... fine, I understand
If that is your wish...

BGM: G Free ~ Final Dream

BGM: G Free ~ Final Dream

Reimu

永遠の勝敗を決める最期の勝負
…受けて立つ!

A battle to decide the eternal struggle,
... I accept!

Marisa

それでこそ霊夢だ
手加減は絶対に許さないぜ

And now, Reimu,
you'd better not hold anything back!

Reimu

望むところよ

As you wish.

Reimu
Marisa

幻想郷は私の物、あんたに渡さないわ!
幻想郷はお前だけのものじゃないぜ!

Gensokyo is mine, I will not hand it over to you!
Gensokyo isn't just yours, you can't take it away!

Ending no. 1

Reimu Hakurei DEFEATED

Marisa

なんだよ…霊夢、もう終わりなのか?

なら、もう私の勝ちだ、永遠の勝ちだぜ

お前は永遠に私の負け犬だぜ…

……

……

…負け犬なら負け犬らしく
それらしい態度しろよ…

…なんとか言えよ、霊夢!

Why, Reimu, is it already over?

Then, it's my win, my eternal win.

You will be my losing dog for all eternity...

...

...

...if you're my losing dog, then act like it!
Act like it and obey...

... say something, Reimu!

BGM: G Free ~ Ultimate Dream

BGM: G Free ~ Ultimate Dream

Reimu

…調子に乗らないでよ

幻想郷は私の精神の中の世界

あなたはおろか森羅万象が私の世界の中で
踊らされてるに過ぎない

もう長くはないこの世界…
私が直接操作したらどうなるか

身をもって思い知るがいいわ!

... Don't get so excited.

Gensokyo is a world in my mind.

All you foolish beings inside my world
are nothing but being manipulated by me.

This world that has not much time left...
If I directly manipulate it,

you should realize what happens yourself!

Reimu Hakurei REVIVES

Reimu Hakurei DEFEATED

Ending no. 2 or Ending no. 3
---