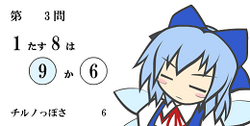 A flash game created by Chibitami.
Objective
All math problems are addition. But this is done in a wierd way. All you have to do is avoid clicking the correct answer.
Simply click the wrong answer in time to score. However, if the answer is 9, then you must click the ⑨. If you make one mistake or you take too long, the game is over.
The tempo increases when level reaches 21, 41, and 81.
External Links
---