Ad blocker interference detected!
Wikia is a free-to-use site that makes money from advertising. We have a modified experience for viewers using ad blockers

Wikia is not accessible if you've made further modifications. Remove the custom ad blocker rule(s) and the page will load as expected.
---

流麗祭彩 (Ryureisaisai)
Running Length

46:54

Catalog No.

HRC-0001
Tracks
01. Caplico Remix (04:59)
02. Septed of Carnival (04:20)

arrangement: MiYAMO (

こなぐすり

original title:

亡き王女の為のセプテット
03. Quicksilver Avantgarde Band (03:52)
05. Dark Cherry Blossom (03:46)
09. BRIDGE TO HELL (05:47)
10. the Last Remotion (05:52)
Notes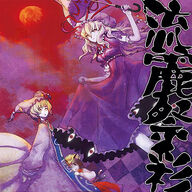 This CD was sold exclusively at the event. A retail version was released in doujin shops with a different cover and catalog number (HRC-0002) on 2009/05/16.
Review
| | |
| --- | --- |
| Genre Needed | Feel free to add musical genres to this article. |
---
Return to List by Groups